January 20, 2017
2017 Mazda CX-9: the Efficient 3-Row SUV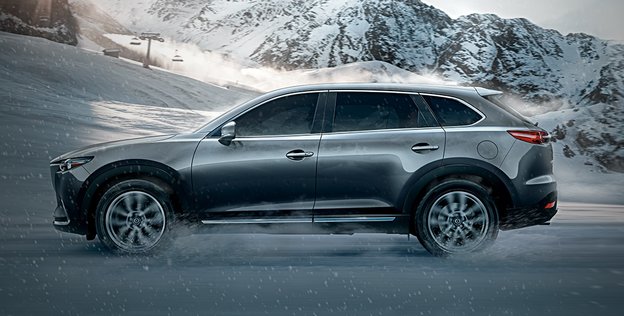 The 2017 Mazda CX-9 is Mazda's most spacious and family-friendly vehicle with tons of interior space, plenty of safety and connectivity features, and a fuel-efficient engine that will get you to your family vacation destination without breaking the bank in fuel costs. That said, it is also fun to drive, something Mazda vehicles are known for.
A New and Unique Engine for the 2017 Mazda CX-9
Starting at $35,600, the 2017 Mazda CX-9 has been completely redesigned from the ground up this year. Although everything is different, the main improvement is found under the hood. The 2017 Mazda CX-9 is now powered by an all-new 2.5 T Dynamic Pressure Turbo engine that delivers a best-in-class 310 lb.-ft. of torque along with 227 horsepower. If you use premium 93 octane fuel, power increase to 250 horsepower although regular fuel will give you all the power you need.
Towing capacity is an impressive 3,500 lbs. or 1,588 kg. Fuel economy is even more impressive with an average fuel consumption rating of 8.4 liters per 100 kilometers on the highway in front-wheel drive models, and 8.6 liters per 100 kilometers on the highway with all-wheel drive vehicles.
Mazda's Dynamic Pressure Turbo is certainly impressive both on paper and from an engineering stand point. The turbocharged engine can push more air towards the turbocharger at a much higher rate and at lower engine speeds. There is then more airflow across the engine's rev range. What that means in simpler terms is that the engine's performance is never lacking regardless of the speed you are driving and turbo-lag is basically non-existent.
The engine is paired to a six-speed automatic transmission, and the 2017 Mazda CX-9 even offers a Sport mode that makes the engine rev higher and quickens the transmission's shifts. That said, regardless of which mode you find yourself in, the CX-9 is always a blast to drive with responsive handling and strong performance.
A lot of Interior Space Inside the 2017 Mazda CX-9
Of course, if you are buying the 2017 Mazda CX-9, it's not just for its driving dynamics and performance. You also need interior space and lots of it, and in that regard the CX-9 has you covered. Offering three rows and space for up to seven passengers, the 2017 CX-9 is quite roomy inside with plenty of elbow, leg, and shoulder room for every row. Even the third row is accommodating thanks to decent head and leg room for this segment. There is a total of 1,082 liters of cargo space behind the middle row, and 407 liters of space behind the third row.
To learn more about the 2017 Mazda CX-9, contact us today at Truro Mazda in Truro, Nova Scotia!