January 20, 2017
The New 2017 Mazda CX-5 is Coming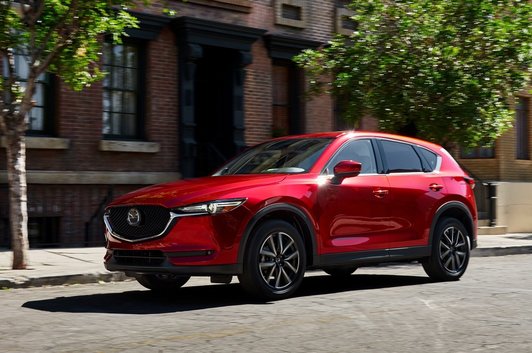 Mazda unveiled its all-new 2017 Mazda CX-5, a very important vehicle for the Japanese manufacturer, at last November's Los Angeles Auto Show. With CX-5 sales now higher than Mazda3 sales, Mazda's compact SUV is certainly a very important model for the automaker, and the brand's engineers certainly had their work cut out for them when introducing this latest generation. For 2017, the Mazda CX-5 gets several significant changes, including the addition of an all-new diesel engine, a first for Mazda in North America!
New Diesel Engine for the 2017 Mazda CX-5
Let's start with this new diesel engine. This is certainly the most significant addition to the new 2017 Mazda CX-5, although ultimately there are several. This new 2.2-liter SKYACTIV-D four-cylinder engine is already available in other markets. We do not yet know the exact power of this engine, but elsewhere it develops 173 horsepower in the European Mazda6, among other models. We should know more about the SKYACTIV-D in the 2017 Mazda CX-5 destined for the Canadian market a little later.
That said, we do know that this engine has the lowest compression ratio in the industry for a diesel engine, and will therefore be able to meet stringent environmental emission standards around the world.
Visually, the 2017 Mazda CX-5, the first Mazda vehicle equipped with the KODO visual language, does not revolutionize its style, but there is no doubt that its silhouette is much more modern and features many of the design cues found on its larger brother, the Mazda CX-9. The CX-5 will also be entitled to a new color called Soul Red Crystal, a very bright red whose color changes depending on which angle you use to look at it.
The interior also receives a lot of improvements, and again we see that the Mazda CX-9 served as inspiration. Overall, the interior will be much more upscale with more refined materials and better build quality, as well as several modifications to the various elements of the cockpit, especially in the centre console.
Two Other Engines for the 2017 Mazda CX-5
In addition to the diesel engine, the 2017 Mazda CX-5 will be powered by the two current engines, the four-cylinder SKYACTIV-G 2.0-liter that develops 155 horsepower, or the four-cylinder, 2.5-liter SKYACTIV-G that delivers 184 horsepower. Front-wheel drive will be standard while all-wheel drive will be optional.
The 2017 Mazda CX-5 also receives Mazda's new G-Vectoring Control technology, a device that uses engine torque to reduce steering wheel movements. The end result is that passengers feel less movements from left to right in addition to having to make less corrections to the steering on the highway.
To learn more about the new 2017 Mazda CX-5, contact us today at Truro Mazda in Truro, Nova Scotia!