2018 Mazda3: a compact that is fuel-efficient and fun to drive
December 30 2017,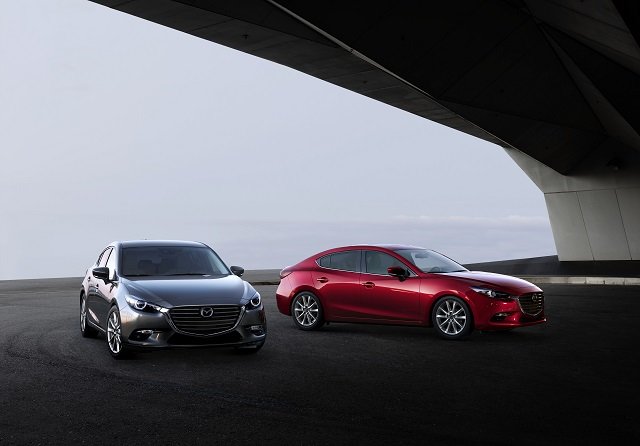 We just have to take a look at the number of Mazda3s on the road to realize how popular the Mazda compact is. Indeed, the new Mazda3 has quickly become one of the best-selling cars in its segment in Canada, and when we take the time to better discover it, we easily understand why.
The new 2018 Mazda3 picks up where the model from last year left off. It benefits from several improvements both inside and out, including the exterior style and an interior that is now more refined. Better yet, the new 2018 Mazda3 still offers its two economical engines that are equally powerful and fun.
Two SKYACTIV-G engines for the 2018 Mazda3
The 2018 Mazda3 starts at $ 15,900 and comes standard with a 2.0-liter four-cylinder engine producing 155 horsepower and 150 lb-ft of torque. This engine is offered in the GX and GS versions. Next is a more powerful SKYACTIV-G 2.5-liter engine producing 184 horsepower and 185 lb-ft of torque that is available in the GT model.
Regardless of the engine, it is possible to get either a 6-speed automatic gearbox or a six-speed manual gearbox. Gearboxes have been optimized according to the SKYACTIV recipe to be lighter and more efficient.
The end result is an average fuel consumption that can be as low as 6.2 liters per 100 kilometers. Not bad at all!
A more versatile version of the 2018 Mazda3
The 2018 Mazda3, in addition to offering a fuel economy rating that surprises every time, is also offered in a more spacious Sport version. The Mazda3 Sport, available for less than $ 20,000, offers a cargo capacity that goes from 572 liters to over 1,300 liters depending on the position of the rear seat.
Whatever your needs, there is a 2018 Mazda3 that can meet them. To learn more about the new 2018 Mazda3, contact us today at Truro Mazda!